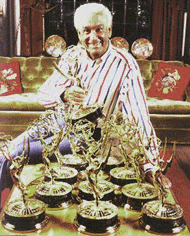 Barker has earned 14 Emmy awards ­ more than any other performer ­ in a career that has spanned five decades
Bob Barker is in his 32nd year as host of CBS' The Price Is Right. Not only is it America's highest rated daytime game show, it is also the longest running game show in television history, surpassing "What's My Line?" which ran for 18 seasons. TV Guide named The Price Is Right the "greatest game show of all time." Bob also serves as the show's executive producer.

Barker has won a total of 15 Emmy awards - 12 as TV host, more than any other performer, two as Executive Producer of The Price Is Right and the Lifetime Achievement Emmy Award for Daytime Television in 1999. He will be installed into the Television Academy Hall of Fame early in 2004. He has also received the coveted Carbon Mike Award of the Pioneer Broadcasters and was named the most popular game show host of all time in a national poll. Although he has graced our television screens for over four decades, his career continues at full throttle. "But," he hastens to add, "I was very young when I started."

On April 26, 2002, Bob broke Johnny Carson's record for continuous performances on the same network television show. Johnny retired from The Tonight Show after 29 years, seven months and 21 days (10/1/62 – 5/22/92). Bob bypassed that record in 2002 – and is still going strong!

He made his motion picture debut in Universal Pictures' Happy Gilmore in which he appeared as himself with Adam Sandler. His real acting debut, however, came when he was asked to play Mel Harris' father in NBC's Something So Right. "It took 46 years from the time I first came to Hollywood for me to land a movie role," he said. "I hope I won't have to wait that long for the next offer."

Another recent honor came when one of the most historic sites in the history of television, Stage 33 at CBS Television City in Los Angeles, was re-dedicated as the Bob Barker Studio in ceremonies following the taping of the 5,000th episode of The Price Is Right in March of 1998. Barker is the first performer to whom CBS has ever dedicated a stage.

Stage 33, opened in November 1952, has been the home of such legendary television series as The Jack Benny Show, The Red Skelton Show and The Carol Burnett Show, as well as some of the network's most memorable entertainment specials starring such performers as Frank Sinatra and Bing Crosby. The Gary Moore Show, based in New York, used it during its annual trip to the West Coast, and The Ed Sullivan Show, used it for all of its West Coast inserts. It was from Stage 33, in fact, that Elvis Presley made his historic first appearance on The Ed Sullivan Show.

Barker was born in Darrington, WA, and spent most of his youth on the Rosebud Indian Reservation in South Dakota where his mother was a schoolteacher. His family eventually moved to Springfield, MO, where he attended high school and Drury College on a basketball scholarship. When World War II intervened, he became a Navy fighter pilot, but the war ended before he was assigned to a seagoing squadron.

Following his discharge, Barker returned to Drury and took a job at a local radio station to help finance his studies. It was there that he discovered that what he did best was to host audience participation shows. After graduating summa cum laude with a degree in economics, he went to work for a radio station in Palm Beach, FL. A year later he moved to Los Angeles, and within a week, he was the host of his own radio program, The Bob Barker Show.

Barker made his debut on national television as the host of the popular Truth Or Consequences. Ralph Edwards, the show's originator, had sold the show to NBC as a daytime strip, but he had not chosen a host. He auditioned emcees in Hollywood and New York for weeks, but when he heard The Bob Barker Show on his car radio, he knew he had found the man for the job.

When asked what it was about Barker that had impressed him, Edwards replied, "Bob sounds like Jack Benny doing audience participation." Proving that Edwards had chosen wisely, Barker hosted Truth Or Consequences for an unbelievable 18 years, and he and Edwards remain close friends today. They drink a toast at lunch every December 21 to celebrate the day in 1956 when Edwards called Barker to tell him that he was to become the star of Truth Or Consequences.

Barker has been twice named in the Guinness Book of World Records as television's "Most Durable Performer," 3,524 consecutive performances on Truth Or Consequences, and "Most Generous Host in Television History" for awarding $55 million in prizes on his various shows. During the ensuing years, the $55 million figure has increased to more than $200 million.

He narrated the CBS telecast of the Rose Parade for 21 years, a record for the network. In 1978, he developed The Bob Barker Fun & Games Show, a series of personal appearances which immediately attracted record-breaking audiences throughout the United States and Canada.

Named one of America's "Ten Best Dressed Men" by the Custom Tailors' Guild of America, Barker is a man of many interests, including karate. His first instructor was film star Chuck Norris, who says that Barker was one of his most dedicated students. Barker has traveled the world over, enjoys reading and is a Civil War buff, but claims, "I excel at lying in the sun doing absolutely nothing."

In recent years, Barker has become the most visible figure in the animal rights movement and one of its most eloquent speakers. The "Fur Flap" surrounding the 1987 Miss USA Pageant attracted more media attention than any single event in animal rights history. If the swimsuit contestants wore real furs, as planned by the pageant producers, Barker said that it would be impossible for him to participate in the telecast. Barker prevailed, and synthetic furs were substituted for the real thing.

In 1988, Barker was again the subject of media attention coast to coast when, after hosting the Miss USA and Miss Universe Pageants for 21 years, he resigned because the producers refused to remove fur coats from the prize packages. As an interesting sidelight, the first telecast of the Miss USA Pageant without Barker as host resulted in a decline in rating of 29%, an incredible loss for a special that airs from one year to the next. Barker also resigned as host of "The Patsy Awards" when he learned that trainers frequently use cruel methods to force animals to perform in movies.

A man of conviction who fights animal exploitation in all of its grisly forms, he has refused offers to do commercials for sponsors because of the animal cruelty involved in the development and manufacture of their products. He turned down a lucrative offer to use his name and likeness in print advertising by one of the nation's best known hospitals because the institution was conducting animal experiments. He also spearheaded the investigation of the movie Project X that led to a request by the Los Angeles Department of Animal Regulation that criminal charges be filed for animal cruelty during the production of the picture.

Bob Barker has established the DJ&T Foundation, the purpose of which is to help control the dog and cat population. He is funding the foundation through his own resources to support low-cost or free spay/neuter clinics. According to Barker, over population is one of our most tragic animal problems. The foundation is named in memory of his wife Dorothy Jo and his mother Matilda (Tilly) Valandra, both of whom loved all animals.

In June of 2001, the Harvard Law School established the Bob Barker Endowment for the Study of Animal Rights Law to support teaching and research in this emerging field. Barker's work on behalf of animals has garnered him a long list of awards from prestigious humane organizations across the country. In fact, a columnist wrote that Barker has become a part-time television host and a full-time animal rights advocate. But Barker assures us that there is room in his busy life for both television and animals.

"BOB BARKER: ANIMAL LOVER, #1 HOST, AND SEXIEST MAN ALIVE"